SCADA Software for Industry 4.0
The first HMI SCADA software built on Industry 4.0 fundamental basis:
Pure Web Technology and OPC UA
FREE DOWNLOAD ATVISE® SCADA
The SCADA software for industry 4.0: atvise®
Industrial processes automation with atvise® SCADA allows you to maximize the performance of your industrial plant, increasing productivity, efficiency, quality and profitability through 4 main features: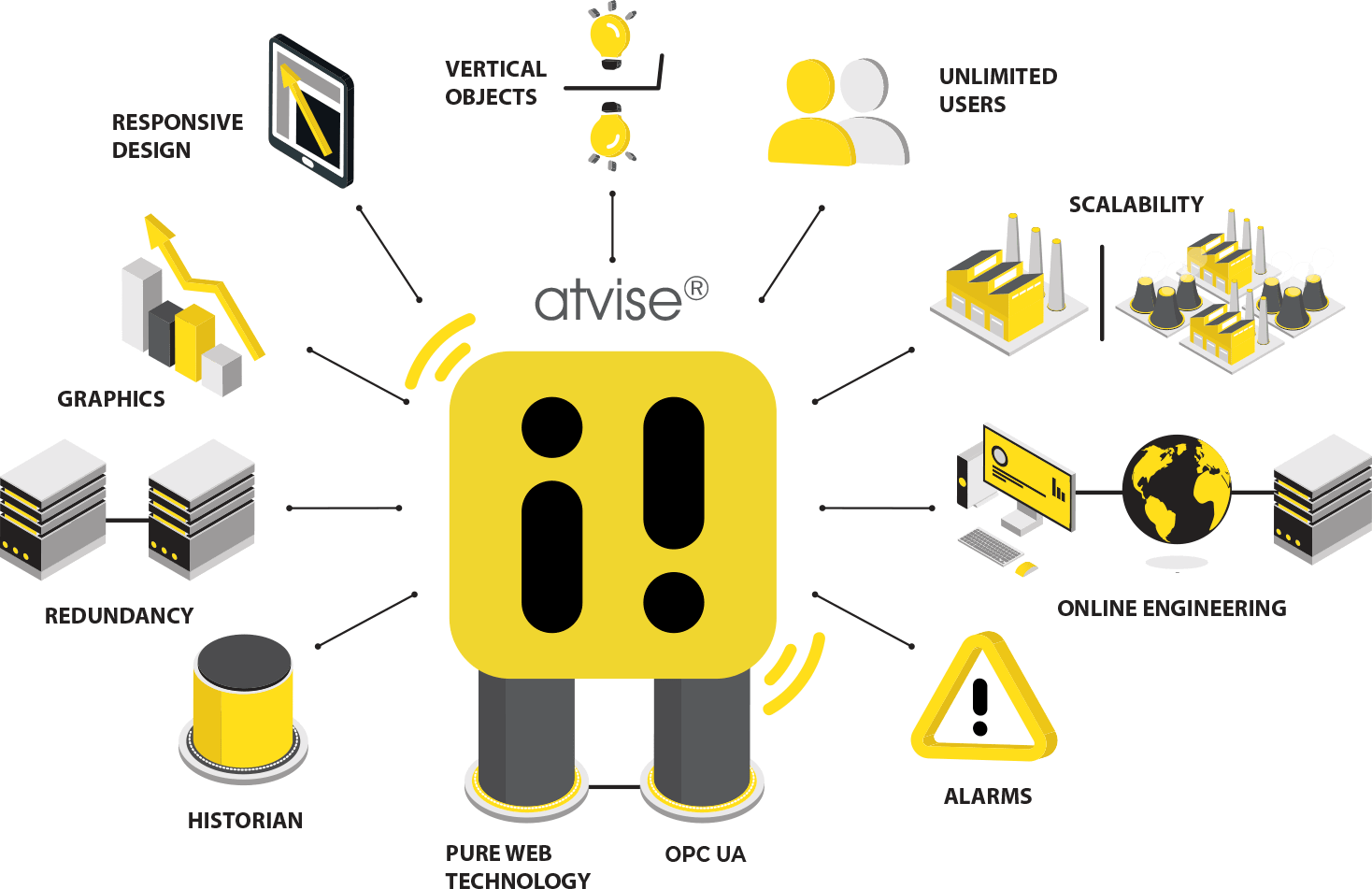 Pure SCADA web application
atvise® is the first professional HMI product that has been developed from scratch with web-standards like SVG (vector graphics) of the WWW Consortium (W3C). Only such technologies will be displayed and executed by all common web browsers without additional plug-ins, ActiveX, Java or Silverlight – today as well as in future.
No client installation necessary. You don't have to set up, configure and maintain client software, and don't worry about the operating system. Web browsers are available everywhere.
Responsive Webdesign. Different sizes of operating terminals of a plant, different displays of a control room, or mobile devices: content and interface adapt to the situation automatically.
Discover atvise® SCADA
OPC UA in the core atvise®
When it comes to interoperability of systems, there is no alternative to OPC UA as the communications standard in industry 4.0.
Great advantages and benefits that, unlike other HMI SCADA industrial systems, are possible due to OPC UA is the second fundamental of atvise® SCADA web system.
This feature allows us to implement any new specification approved by the OPC Foundation.
Unlike traditional SCADA software, all internal components in atvise® are OPC UA nodes, ensuring the highest standardization level of your SCADA industrial communications.
Web SCADA software with OPC UA: Advantages and Benefits:
Realtime SCADA data from PLCs, DCSs and systems from any vendor
Historical data exchange – OPC UA HA client and server
Vertical Object Oriented Engineering – atvise® goes further than object oriented engineering, by offering this feature directly through OPC UA
SCADA software multiplatform
Install atvise® SCADA software in your server machine, both on Windows or Linux. Now you can choose the most convenient operating system for the installation of your SCADA software.
Compatible operating systems with atvise® SCADA software
Windows for a server machine shared with other corporative programs, Ubuntu to install your atvise® SCADA sooftware in the cloud and give remote access to your users, or Debian to install atvise® SCADA in a reduced PC with ARM architecture.
AVAILABLE OPERATING SYSTEMS
And what about the clients? Exactly! Clients are SCADA web applications that can run on Windows, Ubuntu, MAC, Android, iOS… on any operating system that supports web browsers.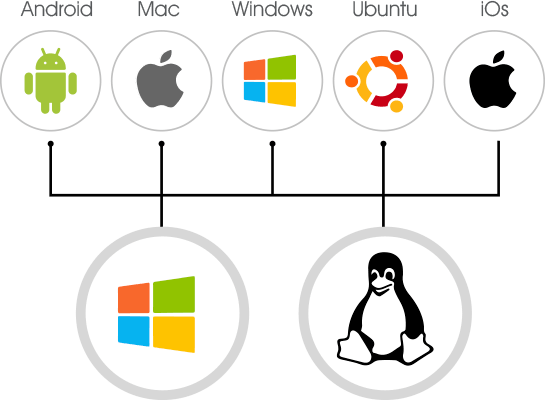 100% online engineering with atvise® Builder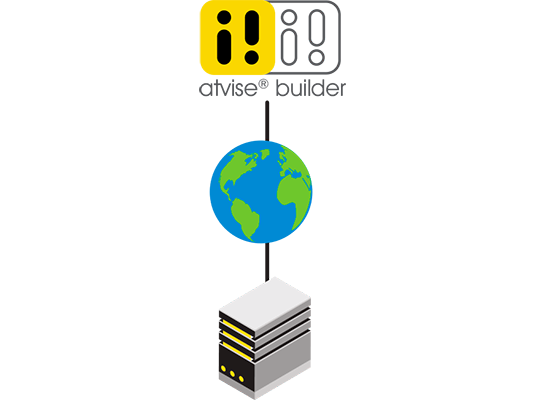 Atvise® SCADA software includes the engineering tool atvise® Builder by default. Access, design, edit, configure and make the whole commissioning of your automated process remotely. Avoid unnecessary travels, reduce costs of engineering hours, speed up project delivery terms, make modifications quickly and much more in the most secure way.
SCADA industrial development projects with atvise® Builder
Engineering tool atvise® Builder allows integrators or developers to create and modify projects from any location due to remote access through OPC UA.
With atvise® Builder, data acquisition and application design are easier, more secure and more efficient than ever.
SCADA Web atvise® adaptability
Intelligent monitoring and control
Automation of industrial processes
Any asset and managed process is monitored in real time, providing a complete view of the general state of the installation, also allowing specific decision-making based on data.
It is possible that, if you work in the industrial sector, you have used some software such as to remotely control an installation or automate processes, that is what a SCADA software does. In fact, it is the most efficient tool on the market to control, monitor, collect data, analyze it and generate reports with it.
In broader terms, SCADA software seek to improve the economic benefits of an industrial system through the optimization and control of all the processes that occur within the plant. Simply put, a SCADA is used to monitor and control equipment in an industrial process, including manufacturing, production, and development.
Composition of a SCADA software
As in most systems, we have two big players: software and hardware; and these will determine with more or less precision the final result.
Hardware
The hardware that a SCADA system requires is mainly the following:
PLCs or RTUs: They are connected to the machinery.
Servers: They collect all the data to form a database and apply the corresponding parameters on it.
A computer: From where the commands are executed.
A local network: Connects all systems to each other so that it works properly
Software
The SCADA software consists of a software program to provide real-time data, historical data, alarms, diagnostic data, and more. It also allows you to manage information such as scheduled maintenance procedures, logistics information, detailed schematics for a particular sensor or machine, and expert systems troubleshooting guides. This means that the operator can see a schematic representation of the plant being controlled.
Application of SCADA software in Industry 4.0
SCADA software are applied in industrial environments to maintain control over production processes, although in recent years their use has also been extended to sectors such as pharmaceuticals, agro-food, energy or water management.
Within the wide range of the industrial sector, it is in the following types of companies where SCADA software are being used the most:
SCADA for petrochemical companies
SCADA for telecommunications companies
SCADA for machinery companies
SCADA for energy production companies
This does not mean that they are the only ones where a SCADA software will work correctly, but they have more years of experience using these systems within their facilities. In fact, it can be applied to any type of industry, from water treatment to transportation.
Discover below, the benefits of adapting a SCADA Web system like atvise® to automate and manage your industrial processes:
Adaptability to different Operating Systems
88%
Great ease of use, configuration and customization
92%
Architectures adaptable to different sectors
100%
Free download atvise® SCADA
SCADA software adaptable to any industry and sector
With more than 15 years of evolution, atvise® SCADA is implanted in all industrial sectors. Companies in industries such as Building Automation, Water Management, Energy, Manufacturing, Infrastructure, Oil & Gas or Transportation enjoy a modern and robust SCADA system.
atvise®:

The most complete
SCADA software
Give the most power to your SCADA software through the available features included in
all atvise® licenses, even in the most basic one.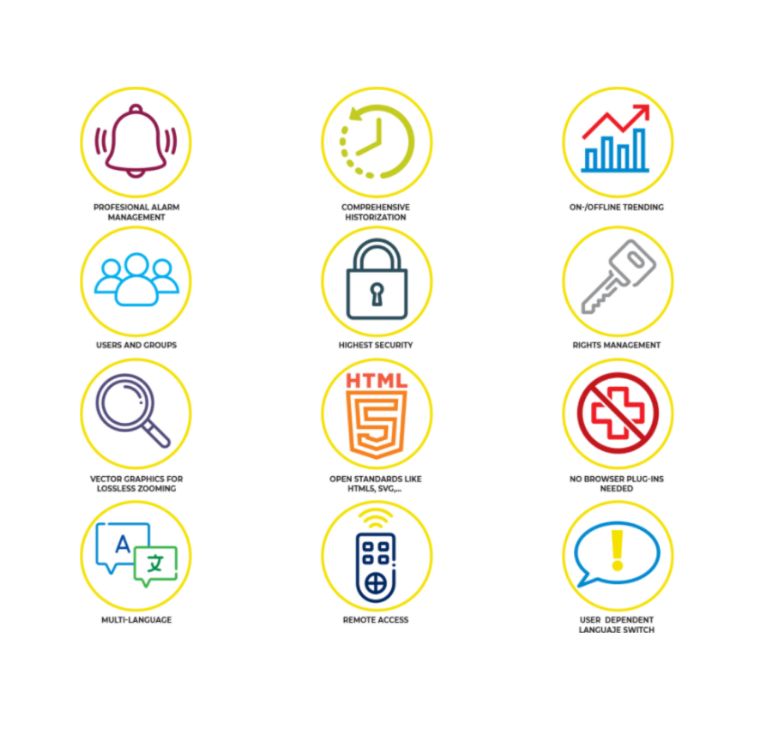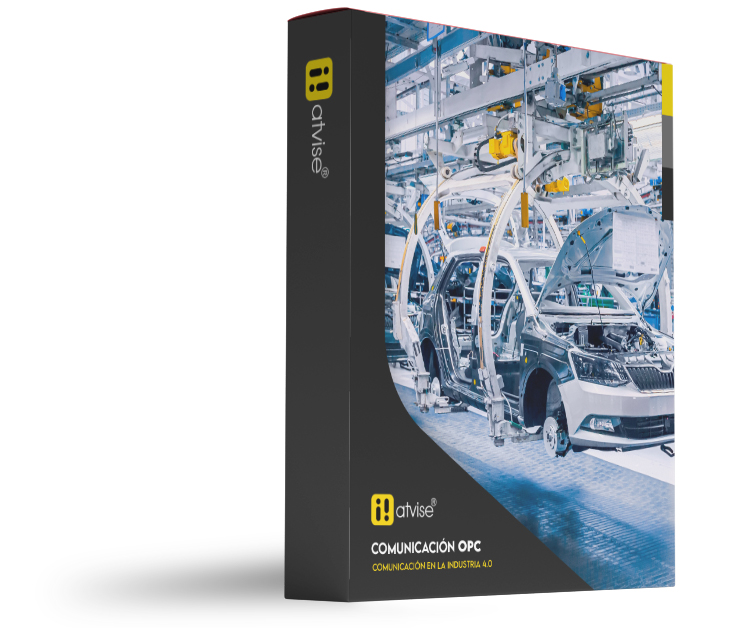 KNOWLEDGE AND TECHNICAL INFORMATION
atvise®

 SCADA

Newsletter

More than 20.600 users are already getting our news!
Are you interested in technology oriented to Industry 4.0? Now you can upgrade your knowledge about atvise® SCADA software through our newsletter.
Subscribe to our newsletter and be the first to get known about the last news about intelligent industries!  
atvise® SCADA Software: Industrial communication and process automation
We advise you free of charge on the best solution for your company or project in particular.
Solve your doubts and queries with the help of our team of specialists
in SCADA software systems. Talk later?
CONTACT NOW